Date
Feb 04 2022
Expired!
Time
This event is hosted in USA - all timing is EST
10:00 am - 12:30 pm
FSNE Winter Series #1: The Power of Networks: Cooperative Networks and Networks of Cooperation
The Power of Networks: Cooperative Networks and Networks of Cooperation
You are invited to the first session in FSNE's month-long 2022 Winter Series, organized around our four impact areas. Please register and join for part of all of this session.
The first part of this event will feature an interactive panel of inspiring guests (10:00 am to noon EST). The afternoon will take the form of a skill-building workshop (on network weaving and network mapping) to build on our themes for the day (12:30 to 2:30 pm EST).  The workshop portion will deepen our focus on harnessing the power of collaborative networks in creating more just, sustainable, and democratic food systems.
Registration is open. You will get the most out of this session if you are able to spend some time with these "pre-work" readings.
As we grapple with ongoing crises and disruptions in our food and related systems, the importance of networks and movement-building is continuing to grow.
How do cooperative, collaborative network, and community food web models fit into our larger food system ecosystem?
What will it take for an emerging patchwork of co-ops, food hubs, and farming collectives to become viable in the existing food system?
How do you lead and weave your network with values at the core? 
Join us in the morning to hear from special guests about why food system networks matter in these challenging times, what opportunities exist for networks to make gains across food, farming, and fishing sectors, and how we can best guide our collective efforts to impact this important work for food system justice, sustainability, and resilience. Guests to include Ken Meter of the Crossroads Resource Center, Gaby Pereyra of Northeast Farmers of Color Land Trust, Katherine Bessey and Analise Sesay from Cooperative Development Institute, and others to be announced.
In the afternoon, FSNE's Karen Spiller and Curtis Ogden will facilitate participants through some collective and interactive skill-building (on network weaving and network mapping) so that we can better serve our communities and food system transformation work.
This session will be held in English and will be recorded for later viewing. Facilitation by Karen Spiller and Curtis Ogden with support from the FSNE backbone staff at the UNH Sustainability Institute.
You will get the most out of this session if you are able to spend some time with these "pre-work" readings.
About our special guests: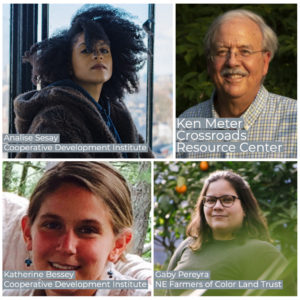 Ken Meter is one of the most experienced food system analysts in the U.S., integrating market analysis, business development, systems thinking, and social concerns. Meter holds 47 years of experience in inner-city and rural community capacity building. His local economic analyses have promoted local food networks in 140 regions in 40 states, two provinces, and three tribal nations.
Gaby Pereyra is a Venezuelan/Uruguayan transplant to NY. Her immense love for plant ancestors started at an early age, when she began to learn anything and everything about them, especially their relationship to people in agro-ecosystems. Gaby's current responsibility as Land Network Weaver is to seed and strengthen relationships, networks, collaborations, and knowledge exchange among Black, Indigenous, and other land stewards of color. Over the past 15 years, Gaby has worked alongside farmers and land stewards from the Americas, Africa, and Europe, learning about the magical trade-off of carbon, nitrogen, and water between the soil, plants, and the sky. As a descendent of immigrant and refugee ancestors and as an immigrant herself, her commitment is to the re-connection of communities and land, under land tenure models that support human beings and non-humans beings, to create more equitable possibilities for our future ancestors.
Katherine Bessey is the Coordinating Director and Food Systems Specialist for CDI's Business Ownership Solutions (BOS) and Cooperative Food Systems programs. She has a Masters degree in Policy Planning, and Management with a concentration in sustainable development and geospatial analysis at the Muskie School of Public Service. Prior to CDI, Katherine worked as an Associate Research Analyst for Group Dimensions International for eight years where she specialized in program evaluation, policy analysis, and data analytics; she contributed to external evaluation studies in international development for the World Bank, African Development Bank, and the Inter-American Development Bank. As an undergraduate, Katherine double majored in mathematics and the arts at Smith College. She spent two years in Italy completing a "Farm to Table" internship, during which she expanded her skills and knowledge regarding sustainable agriculture, sustainable systems and business development, and the importance of the food system as a cultural focal point of society.
Analise Sesay is a Cooperative Business Developer & Ecosystem Steward based in New York focused on land access, sovereignty and healing for Black people, Immigrants and people of color. She has a bachelor's in Communication and Rhetorical Studies with a minor in Ideas, Design and Startups from Syracuse University. Analise also holds a master's in Social Entrepreneurship from Goldsmiths, University of London. While living in the UK, she co-produced an affordable popup healing center that held more than 300 classes, workshops, and treatments during the 3-month activation. She also taught summer courses in social entrepreneurship to international students ages 15-17. Before moving abroad, Analise supported the production of CommonBound, a conference convening around strategy towards a more just and equitable future put on by the New Economy Coalition. Analise is a certified yoga instructor with a focus on trauma-informed practice and enjoys continued study in Earth-based healing practices.
Help spread the word with this outreach kit